Harlow Evelyn - 1 month old on September 11, 2009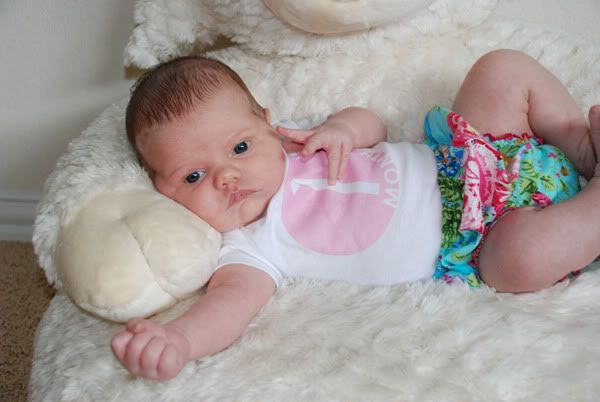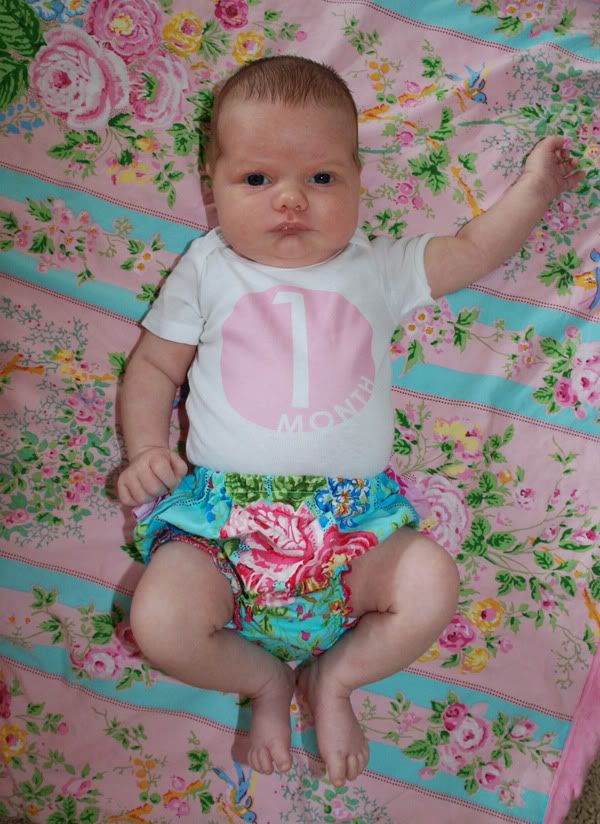 Our 3 beautiful kids together. Paige 5 years, Harlow 3 weeks and Aiden 2 1/2 years old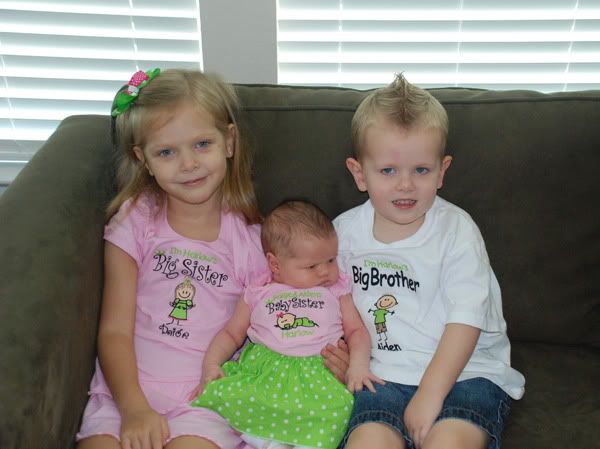 So it took me a month just to get Harlow's birth story on here and now its time for me to Blog about her first month. Harlow sure is a great baby; she really only cries when you push her to her breaking point and usually its while she is in her car seat, she nurses great for me and has already adapted to a routine with us.
I put her in her pajamas usually around 8 pm after Jon and I put Paige and Aiden to bed, then I nurse her, she spends time with Jon and I while we watch tv, around 10 pm I nurse her again and this time its time to be put in her moses basket for bed. She usually sleeps until at least 3 am but some nights its been until 4 am which is AMAZING I think. Paige and Aiden always nursed every 1 1/2 - 2 hours for MONTHS so I just assumed Harlow would be the same so I am beyond excited she sleeps for such a good stretch of time before nursing again...YAY for ME!
Harlow 1 day old
Two days after Harlow arrived she brought a present (well she had some help from mom) for her new siblings. Paige got a very special
Bamboletta
doll named Chloe and Aiden got a Spiderman airplane.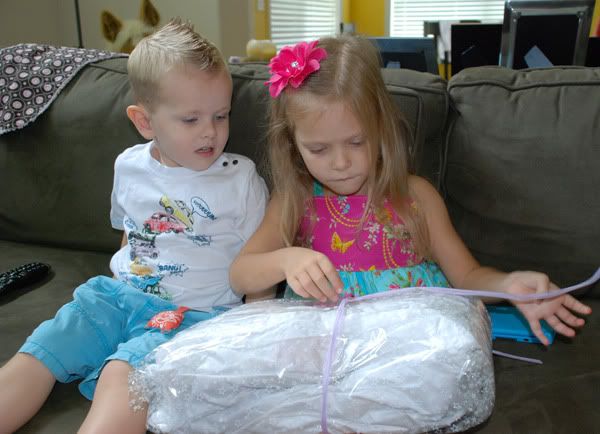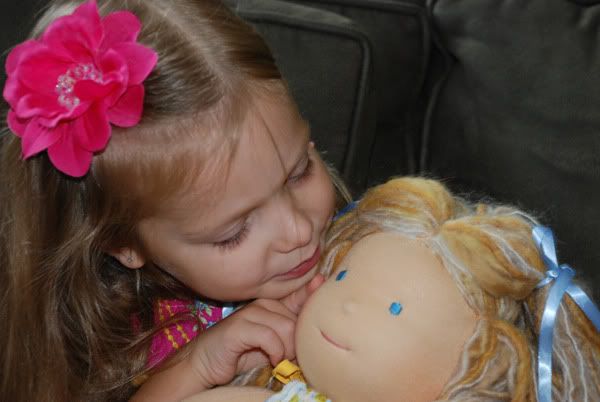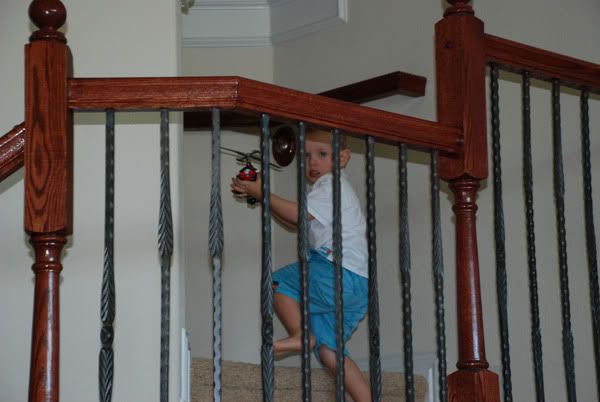 Harlow hasn't had any issues putting on weight. At her 2 week check-up with Kathleen she was already 9 lbs. and I am sure she has put on more weight in the last 2 weeks. I am taking her to her first Pediatrician appointment (her 1 month appointment) on Thursday so I will update then with what her weight is.
Harlow loves sleeping in her
UPPAbaby
stroller. The one thing I wanted for her was a nice stroller with a bassinet basket because I knew her being the 3rd child most of her naps would be on the go so I wanted her to get to sleep how she would at home. Plus this stroller pushes like a dream which is great since I usually only have one hand to push it while I chase after Aiden.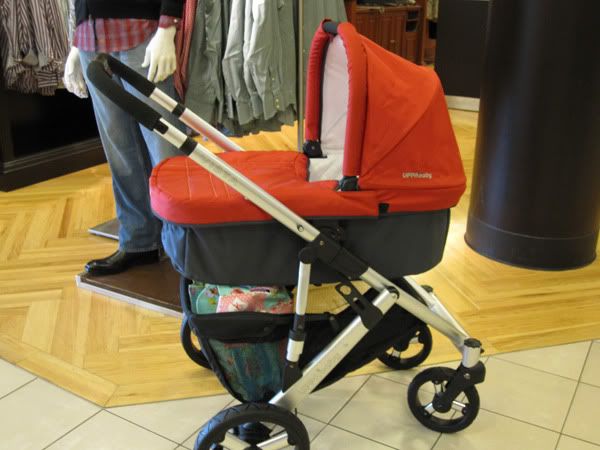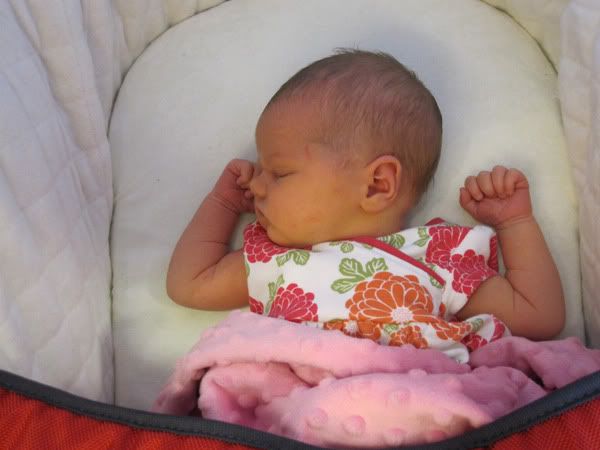 Paige and Aiden just adore their new baby sister, they ask to hold her almost everyday and Aiden always asks where she is if he doesn't see her. Life is good, I am so grateful for my beautiful family and I cherish everyday we spend together.
Big Sister Paige with Harlow - 1 day old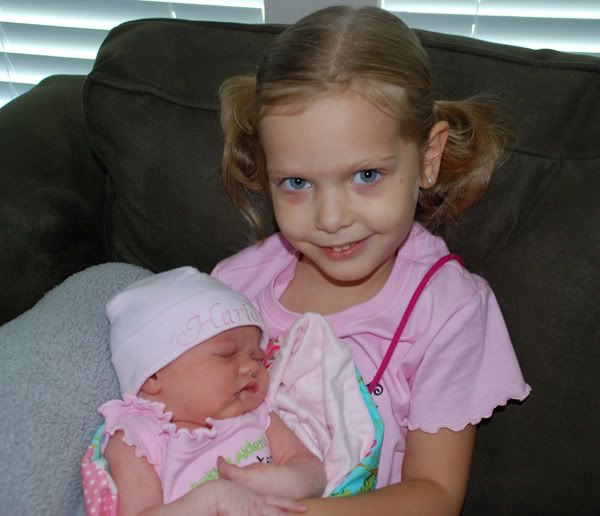 Big Brother Aiden with Harlow - 2 days old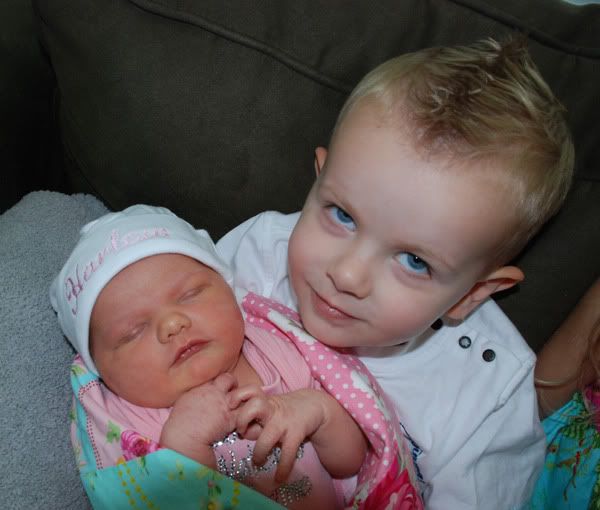 Matching Sisters (I always wanted another girl to match them im cute clothes) Paige and Harlow 19 days old in Paige's favorite clothing brand
Hanna Andersson
Aiden giving his sister some love, Harlow 3 weeks old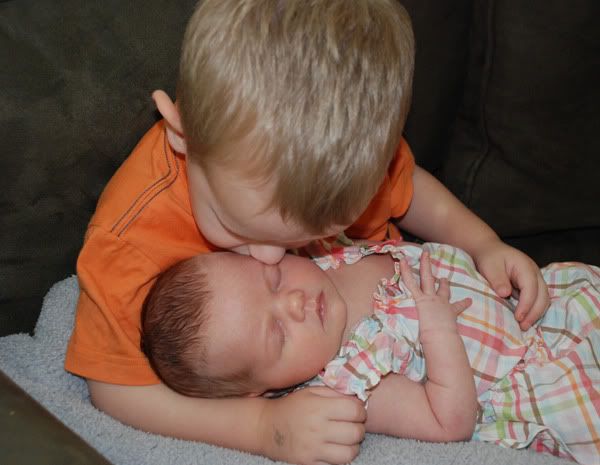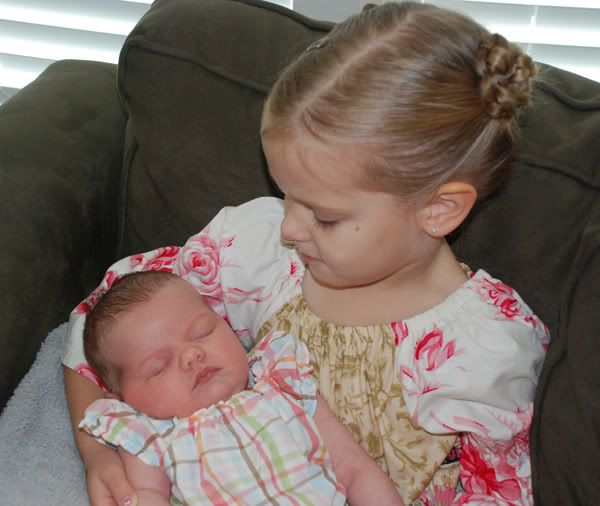 Some Pictures of Harlow:
First time going in her car seat at 4 days old and not so excited about it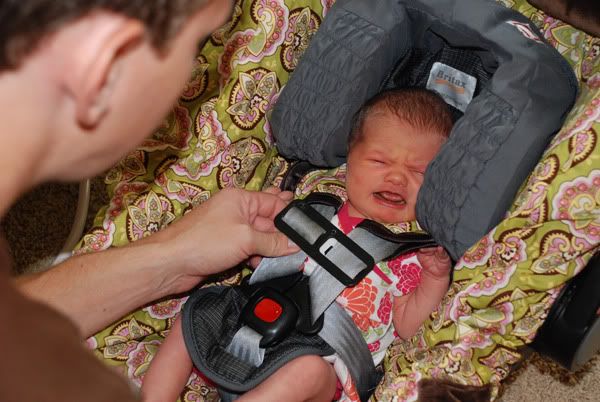 First bath all by herself at 5 days old (remember her and I had a couple of baths together before this)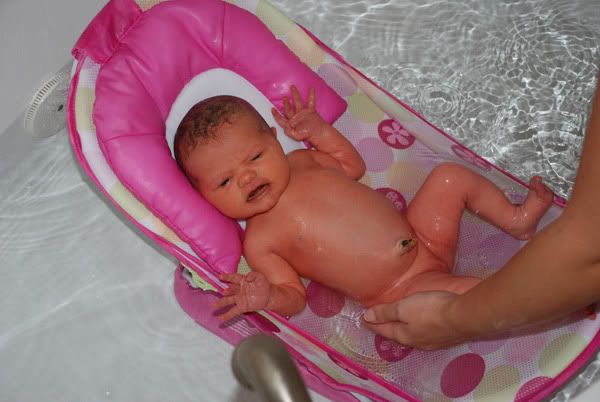 Harlow 5 days old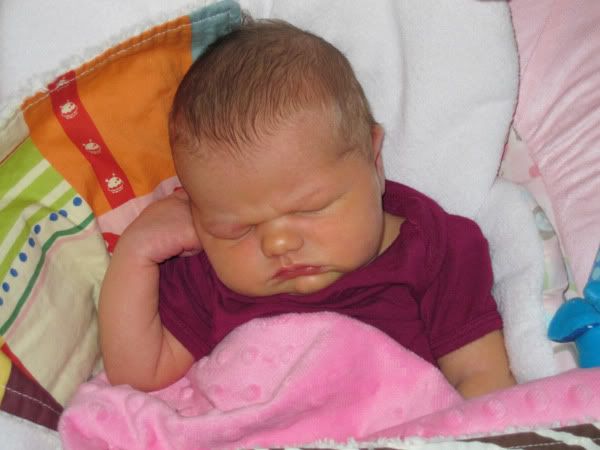 Harlow 9 days old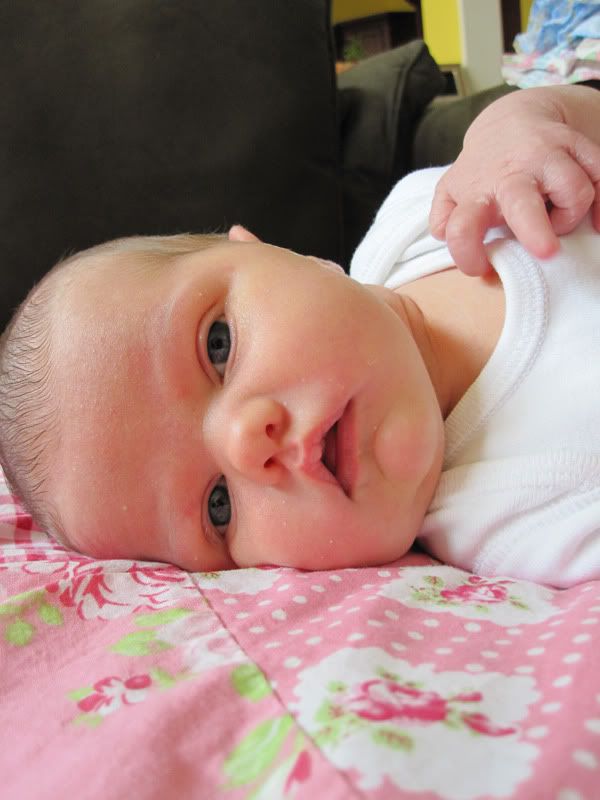 Love her tiny feet...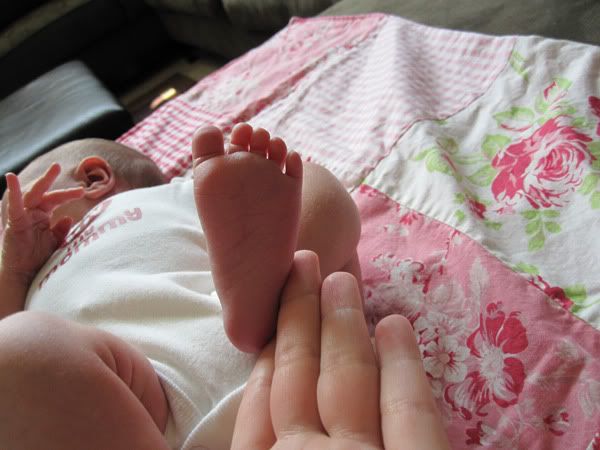 As Pretty as a Flower, Harlow 15 days old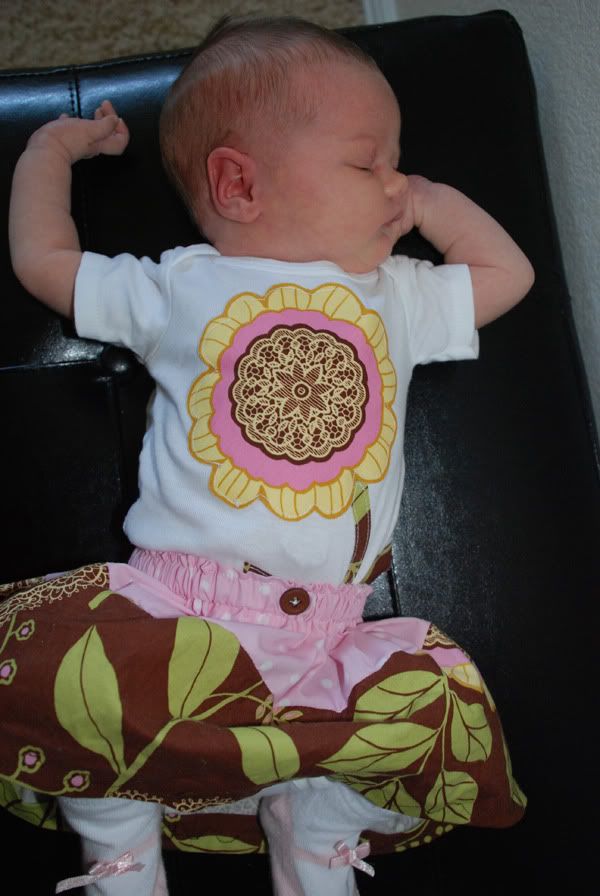 Harlow 3 weeks old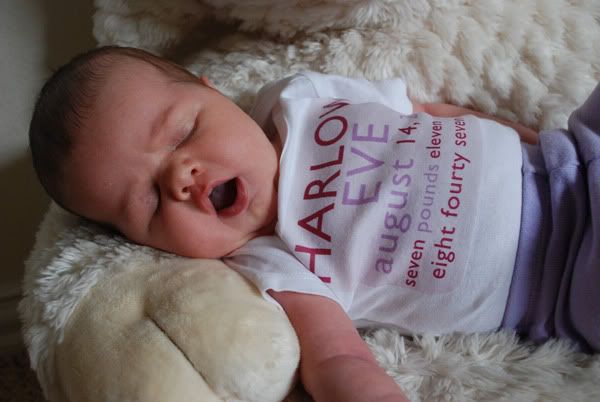 Harlow 3 weeks, 4 days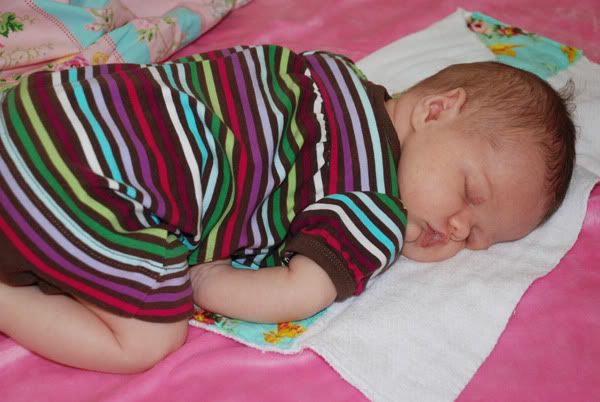 Harlow 1 month old