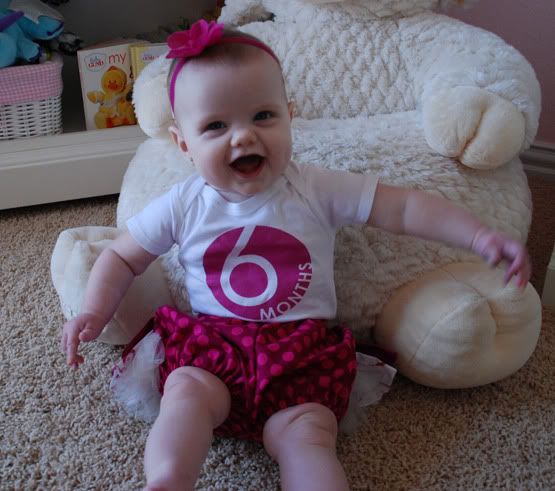 I can't believe half of a year has already passed us by; I really wish time would just slow down so I could enjoy Harlow as a baby a little longer. It sure has been fun watching her grow and I cherish seeing her accomplish each milestone.
Harlow had her 6 month pediatrician appointment last Friday on 2/19, she was 15.2 lbs. (25%) and 26.5" (90%) long, such a lucky girl being skinny and tall.
Daddy fed Harlow her pea's for her first food this past Saturday on 2/20, she only took a few spoonfuls but now every morning she has a nice serving before being done. I planned on starting a new food with her tomorrow.
Harlow has also begun to scootch her way around, she usually goes backwards and with some good arm moves can usually rotate herself around quite a bit. Harlow hasn't begun to sit unsupported yet but she showed me her good balance during this 6 month photo session when I sat her in front of Lulu for the pictures. Harlow loves to razzle and of course with that comes some baby drool. Her favorite toy right now is her
teething toothbrush
and of course she loves to suck on her thumb.
It's so hard to choose pictures of Harlow, I tell ya I always think I found my 'favorite' but then I fall in love with the next picture just as much. I want to get a new
Gina Alexander purse
but how will I ever be able to choose the pictures for it?