Time, that's what I needed the most and I couldn't seem to find any of it before Christmas but now that its behind me I think I see more "time" heading my way.
We had a fantastic Christmas in our house. The BIG Santa present was a beautiful playset for our backyard. Jon worked night after night building it and finished the night before Christmas Eve. Luckily, I was able to distract the kids when pulling in and out of the garage so they didn't see it during the week. I really wanted the "magic" of Santa on Christmas morning and the kids got just that. Unfortunately, because of the snow the day before the kids couldn't really play much on it but I know it will be the best money spent for our 3 kids when the weather warms up a bit.
Some of the favorite presents from Christmas (they really love it all but here are a few to mention):
Aiden's would be his Batman costume
Harlow's would be (I get to pick it right?) her stunning
eden's bouquet
outfit, always fabulous
Mia Joie
shoes and her new baby toys of course
THANK YOU to everyone who sent such wonderful presents (they really do love them all!) and of course the money was greatly appreciated so Jon & I could get the kids more of what they wanted since we were really only getting them the playset at first and then had extra funds to get more toys for the kids.
Christmas day was spent playing with toys and then we went to the movies. I think that will have to be a yearly tradition, the kids had such a great time eating popcorn and ICEE for lunch and it was nice to get out of the house for a bit on Christmas. We saw Alvin and the Chipmunks, such a cute kids movie. When we arrived back home we enjoyed some Honey Baked Ham and the kids played with their toys into the night.
Opening up a present (well it was a few since what they wanted to open was the Zhu Zhu pets Fun House and you need the Hamsters of course to use it) on Christmas Eve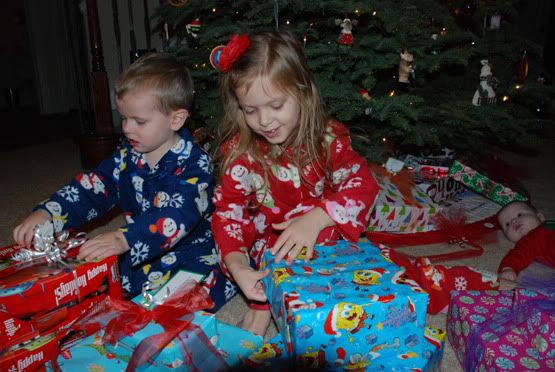 Paige putting out the cookies we made for Santa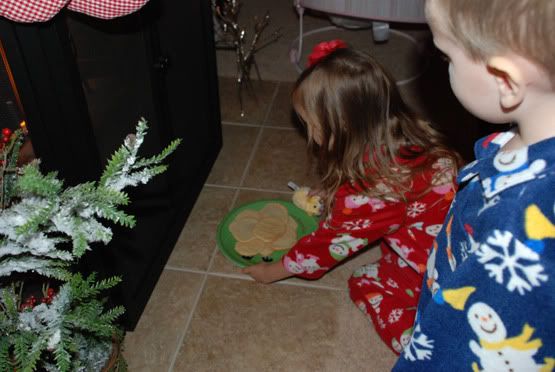 Aiden's Santa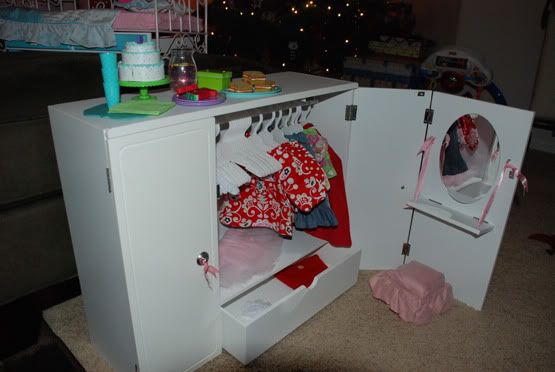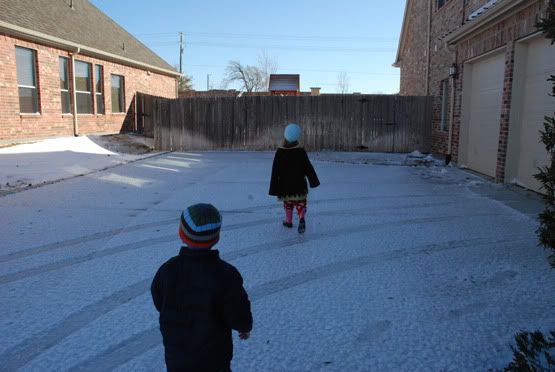 and HE DID!