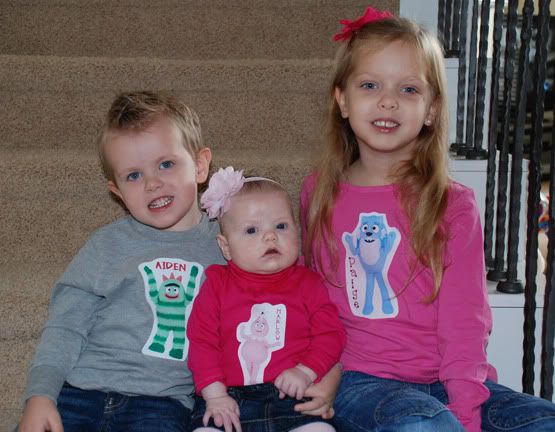 The night before the big show I made the kids some Yo Gabba Gabba! shirts complete with sparkles for the girls', they each picked who they wanted on their shirts. Paige wanted Toodee, Aiden Brobee and of course Harlow was Foofa.
We were so excited to go see Yo Gabba Gabba in concert on Saturday here in our home town city of Frisco. We had 3rd row, floor seats that included a cast Meet & Greet after the show. The kids actually danced just in front of the stage the entire show. The cast kept waiving at them from the stage, it was so sweet.
I had no idea it would be such a fun show. You can't beat the balloons they dropped from the ceiling, confetti sprays, tons of bubbles and all of the non-stop singing and dancing. They even brought along a few celebrities to sing-along with them. Seriously, it was the best kids concert I have been to yet.
After the show we went to meet the cast. We got a great family picture and I had DJ Lance Rock sign the back of the kids' shirts. This show sure made for some amazing memories.