We had such a fun weekend wearing our costumes and celebrating Halloween. On Friday night, we went to a family Halloween party at our friend Laura's house, co-hosted by another friend Amy. The kids had a great time jumping in the bounce house, eating spooky treats and playing with friends while Jon and I got a chance to socialize with our friends. Jon and I even got dressed up; he had a gorilla costume he bought last year when we hosted a Halloween party and on the day of the party I bought one of the few costumes Target had left on the shelves which was a Tavern Girl (Tavern Wench) costume. Perfect for me I guess since I could nurse Harlow in it...ha ha!
Harlow had two costumes this year since Paige and Aiden went in different directions and I couldn't decide which to partner her up with, so at this party she was a 50's girl along with her sister Paige...so SWEET together!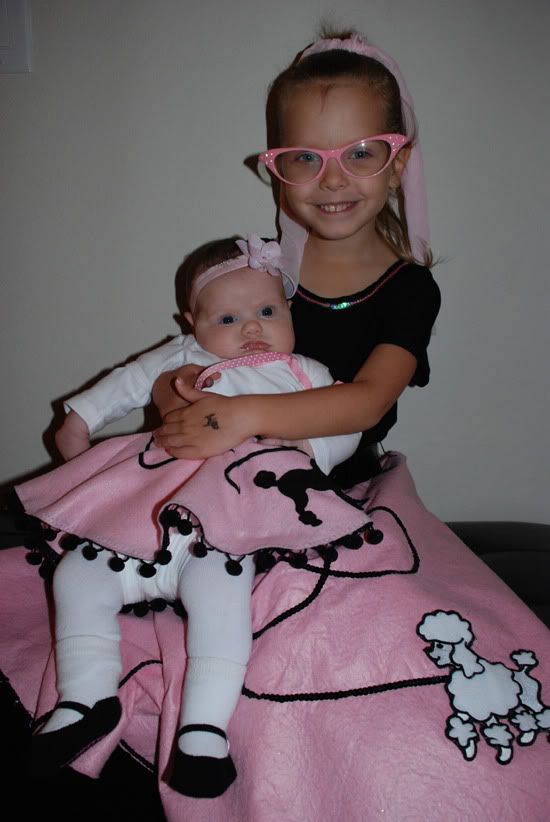 At the party with one of my best girlfriends Amber
My little Peter Pan man and I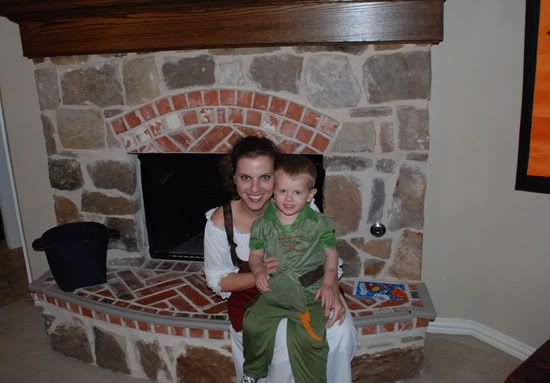 Saturday, the kids were ready to gear-up again in their costumes and head out to a Halloween themed birthday party at our community Club House. Paige and Aiden enjoyed fun games and food. Paige even won one of the Best Costume prizes and her prize was a box of Boo Berry cereal...so CUTE!
Then it was finally time to go trick-or-treating. We started off a little dysfunctional trying to keep Paige and Aiden together along with Harlow in toe, on top of Jon trying to take video and pictures. So we stopped to re-evaluate our plan to get us moving door to door a little faster. I put Harlow on me in the sling and the stroller became our dumping grounds for overflowing candy, jackets, the camera, the video camera, etc. So door-to-door the kids went enjoying a few pieces of candy as we went along. It was a great night and I am already looking forward to doing it all over again next year.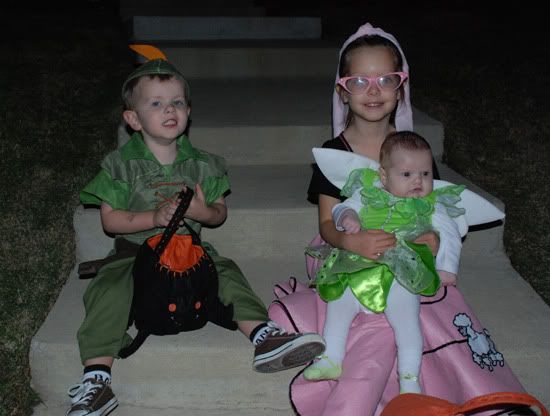 Peter Pan's Tinkerbell Harlow Taking Flight this Halloween Night
Aiden was so enthusiastic he would walk into homes to get himself candy