Two nights before Harlow's actual birthday I had strong but irregular contractions so I knew she was going to make her debut any day. On the morning of August 14th I started having a pattern to the contractions so I called Jon at work to tell him the exciting news that today was the day we would get to meet our baby. Jon came home from work early, set up the birthing tub and continued to work the rest of the day from home. I continued to run laundry and tend to the kids.
After lunch, I contacted my Mid-Wife Kathleen to tell her about my contractions and bloody show. Kathleen told me she would come to our house around 5:00 pm to check on me. I decided on an easy plan for dinner and ordered a couple of large pizzas while I continued to labor away.
When Kathleen arrived she checked my cervix which was dilated to 6 cm and made a call to her Assistant Pam to head on over for a delivery because we knew my labor would progress quickly. In the meantime, she gave me a teaspoon of an all natural stimulant to labor called Mother's Choice and had Jon and I walk around the block a few times to move things along. I called my friends Amber and Nicole who were going to attend the birth to tell them to head on over.
When we came back from our walk we all enjoyed pizza together before Jon and I went on another walk along with Amber around the block. During this time Kathleen and Pam were preparing the bedroom and birthing tub. By the time we got back the contractions were only 5 minutes apart. Kathleen continued to give me the Mother's Choice to prepare for childbirth. My other friend Nicole arrived and my contractions started to become much worse and I had an increase in bloody show (I had the same with my daughter Paige so I knew it was almost time for Harlow to make her debut). Paige was ready to get in her Big Sister dress and Aiden followed getting on his Big Brother shirt. Our house was so full of excitement and love, I was so grateful to be at home.
Around 7:30 pm I asked Kathleen to check my cervix as I knew my labor was quickly progressing. I was 8 cm at this time and my water bag was still intact (my water didn't break with my previous two babies either). Kathleen told me if she broke my bag of water I would be ready to deliver within the hour so I had her break the bag. After she broke the bag I was ready to get into the birthing tub to finish out my labor. Jon joined me in the birthing tub and we had a few minutes together before I had the rest of the house join us as I began pushing. I was only in the tub about 20 minutes before Harlow was born, delivered with the help of Jon's hands at 8:47 pm. It was the most beautiful birth to be at home surrounded by family (even had my sister on the phone) and friends.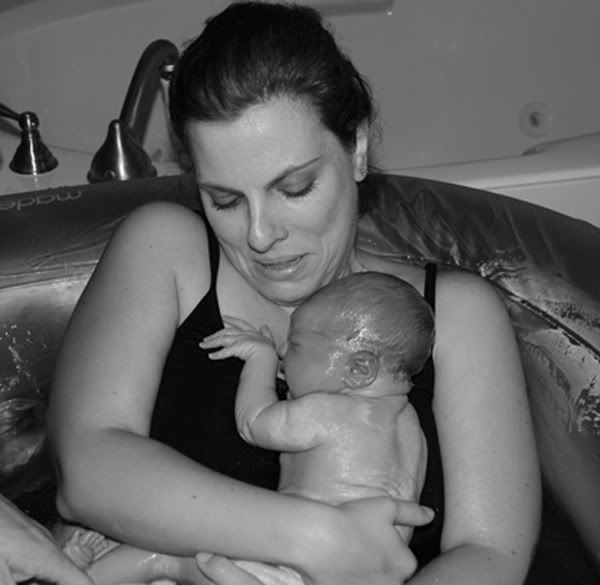 After her birth, Jon and I stayed in the tub with Harlow in my arms for a bit (it was amazing to feel the pulsating of her cord) before he cut the umbilical cord. Then everyone cleared the room so Jon and I could get out of the tub and I could get to the bed to deliver the placenta. Jon held Harlow until I was done and ready to breastfeed. Did I mention how amazing it was to be home? While I enjoyed feeding and holding Harlow Kathleen and Pam started to move out the birthing tub and clean-up. They put everything in it's place and started the laundry. My bedroom and bathroom looked as if I had never even given birth just moments before.
Next it was time for a bath, Pam had set-up an herbal tea bath for Harlow and I in our tub. It was so soothing and such a bonding experience. I cradled Harlow in my arms while we enjoyed our bath together. Kathleen assisted me in giving Harlow her first bath, it was beautiful. The lights were dimmed, I had a candle by the side of the tub and I cherished every second with our new baby.
Then it was time for the well baby exam. Everyone sat on my bed with me including Kathleen with baby Harlow. We had my sister and her fiancee Jason on Skype so they could see Harlow and watch the exam all the way in CA. Kathleen measured Harlow's head 13 1/4", length 20", weight 7 lbs. 11 oz. and chest 13 1/4"...she was perfect! Then we were done, it was time for a few pictures with those that attending this beautiful homebirth and settle in for the night AT HOME!

I feel so fortunate to have had this amazing homebirth experience. Mid-Wives are truly amazing, they do it all out of LOVE. I am forever grateful to both Kathleen and Pam for giving me and those that attended the birth such beautiful memories of Harlow entering this world in our home filled with such love.


Harlow Evelyn