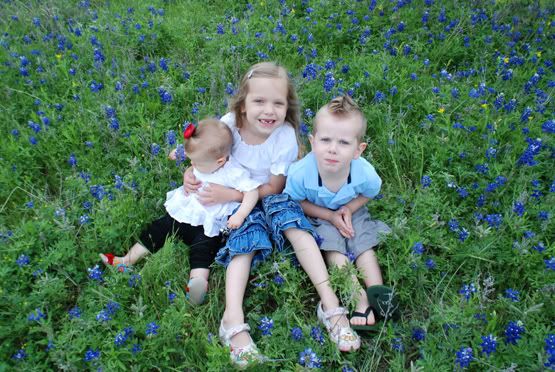 It's that time of year again if you live in Texas to take your children for some pretty
Bluebonnet
pictures, it's a Texas tradition.
I have a field near my house that I take the kids to every year for ours, it's actually a small, old cemetery but the fields where the bluebonnets grow aren't near the headstones. Because I waited a little longer this year to take the kids I had to climb a fence to get to the field that had the most flowers. Bluebonnet flowers only bloom a short time and people trample them trying to get the "perfect picture" so the sooner you go the better.
So yesterday I channeled my inner Super Mom (no cape needed) to get the kids dressed and over to the bluebonnets just before dinner. I had to overcome a few obstacles to get the perfect picture, first was getting us all on the other side of the fence all while holding Harlow and the camera bag but I was determined. Then it was time for a trek through the fields in my flip flops where I lost one of Harlow's shoes so I had to go back to find it before I could start our photo-shoot. After I found the shoe and sat the kids down I quickly realized that Harlow wanted no part in sitting in these pretty flowers so I only got a few pictures before she started to cry.
Both Paige and Aiden were great trying to give me their best smile and talking to Harlow in hopes she would cooperate. I think Paige has realized that the quicker she can help me get a good picture the sooner we can be finished. Paige really enjoyed singing and dancing in the flower filled field, so with a crying Harlow on my hip I got some great frolicking pictures of Paige amongst the flowers and some of Aiden climbing on the fence.
Well for those of you who know me you know I don't easily give-up my idea of getting a 'perfect picture' so after I loaded up Paige and Aiden I had to try one last attempt with Harlow in the bluebonnets, after-all it was her first year for them. I even tried bribery with her first little lollipop but nope she continued to cry so I had to settle for a pretty picture of her from behind.