How is my first born baby already 5? Gosh the years just passed us by so fast but when I look at her I still see my little girl. Paige wanted her party at
Sweet & Sassy
in Frisco and chose the Pop Star theme and I knew she needed the Pink Limo to make it extra fabulous and special.
The limo drive was so much fun. Paige and her friends loved the twinkly lights,
tv
, music and the overall "big" factor inside. Once we arrived at Sweet & Sassy the staff cheered the girls on as they entered the store.
Paige had a great time getting a glam-girl makeover (nails, make-up and hair), singing and dancing with her friends and strutting her stuff down the runway. For the singing part of the party they asked Paige what her favorite song was and being that she doesn't watch Hanna Montana or listen to music in the car (she and her brother watch
DVD's
) she chose Twinkle Twinkle Little Star and Mary Had a Little Lamb, it was precious seeing all of those 5 year old girls singing such sweet childhood songs.
Now it was time for the party room and cake. Paige chose every detail of the cake herself with my favorite cake place
Cakes

Amore
in Plano and it was a PERFECT match to her party not to mention a delicious chocolate.
I of course took a ton of pictures of this very special party day, enjoy!
Waiting for her other friends to arrive at our house for the ride to Sweet & Sassy...
They wanted to get in and check it out while waiting for the other girls...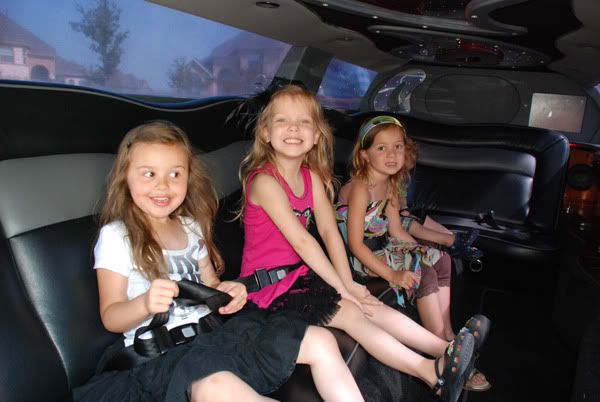 Ready to go!
The "Pop Stars" Have Arrived...
Getting her hair done...
Putting the finishing touches on the girls...
Fabulous!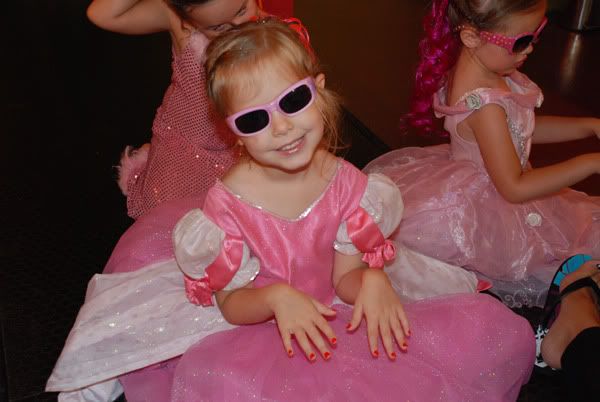 Paige and I (30 weeks pregnant)
Ready to Strut Down the Runway...
Let's SING!
Paige wanted her buddy Madison to get up on stage to sing with her...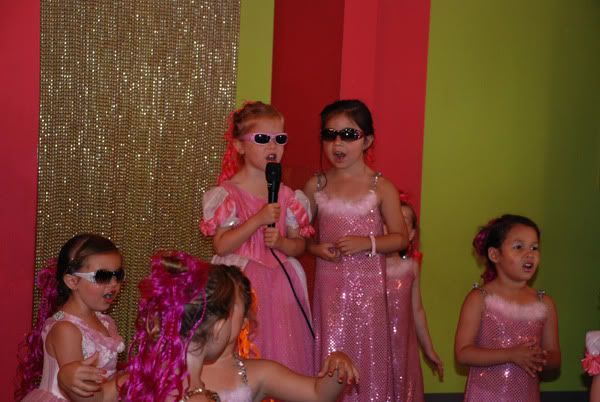 Such Diva's!
Of course
Aiden
wanted a chance to sing with his Sissy too!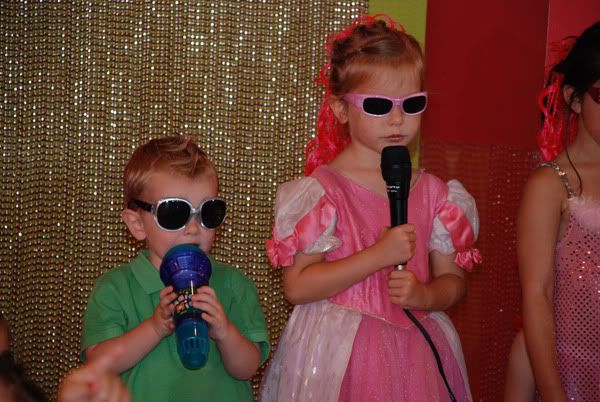 Some Girl Chat...of course
Aiden
trying to be a part of it too.
Let's Dance!
Group Picture
The party room I set-up. Paige wanted
lot's
of PINK because it's her favorite color...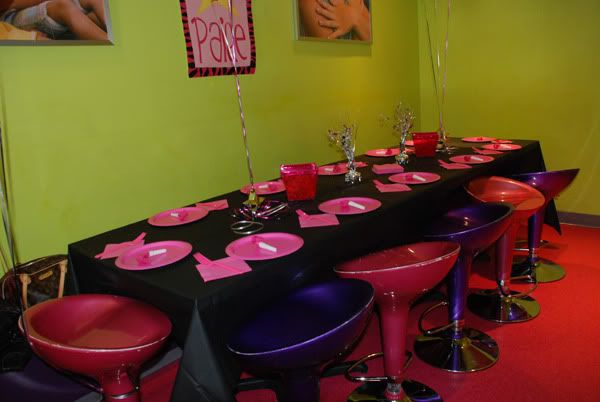 Rockin
' Banner I bought off of
Etsy
Favor Bags with everything you need to be a Pop Star including a Pink Headset, a Sparkly Microphone, a Tiara, Pink Glitter Hair Spray and some Candy.
The
Rockin
' Cake Paige designed...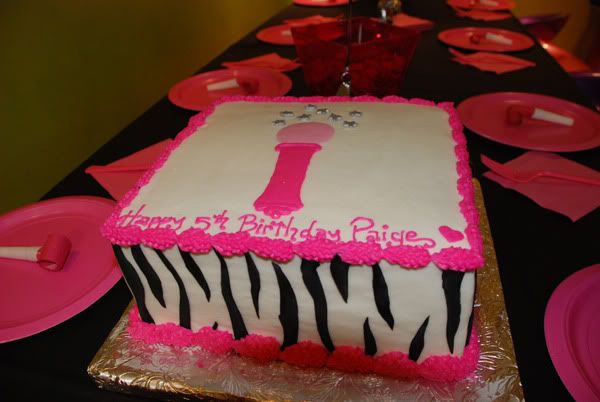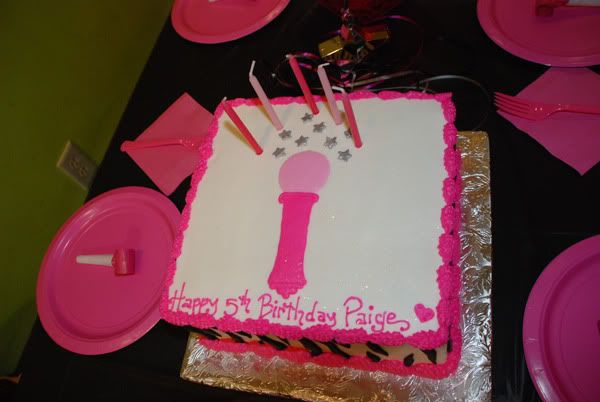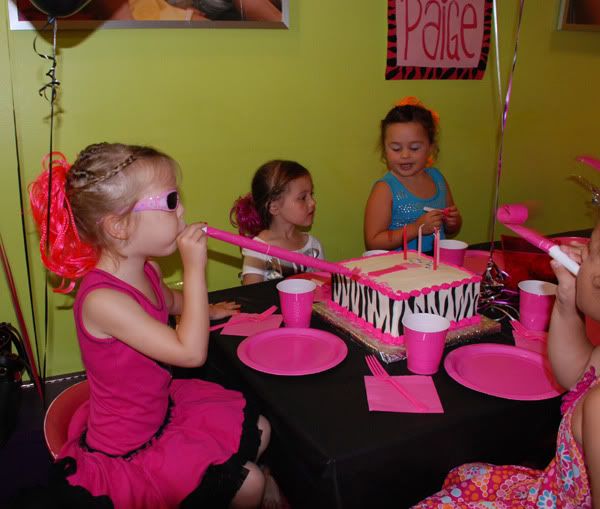 Happy 5
th
Birthday Paige!
The Perfect Picture!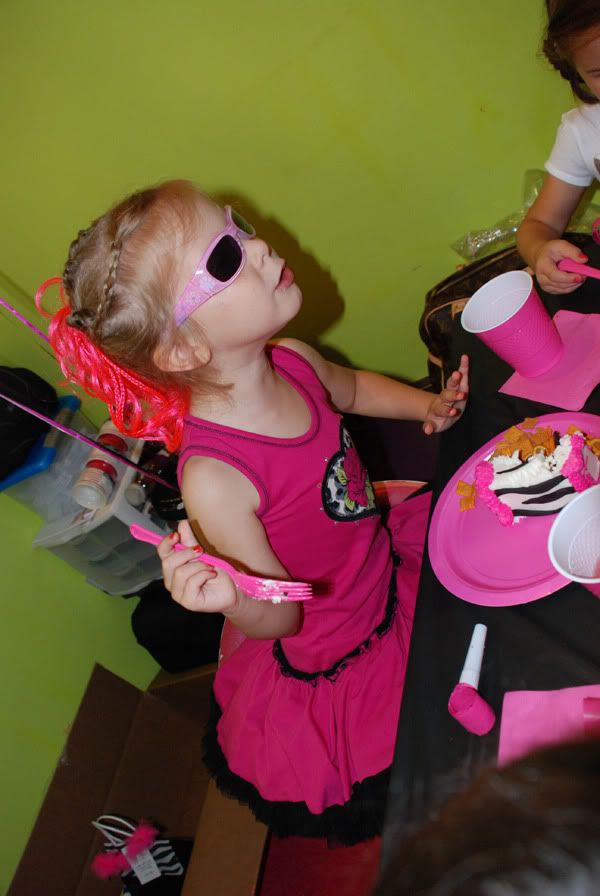 Ready for another Ride in the Limo after the Party...
Look at all of the Pop Stars...
Back at home ready to open her presents...
Her Favorite Present came from her Auntie Jen and Cousin Meg which was a Nintendo
DSI
. Daddy was teaching her how to play it. Her Auntie Jen also got her the fabulous Snow White custom costume she is wearing....so sweet!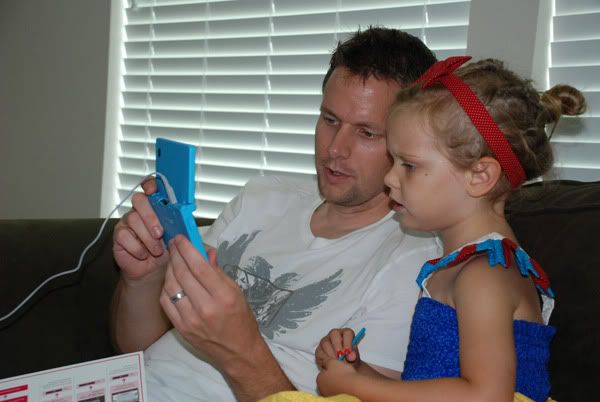 ...she plays it all the time!
Thank you to everyone who came out to Paige's
rockin
' 5th birthday party, it was all of you who made it so special.