I just had to share this FABULOUS diaper cake my friend Andrea gave to me last night; it will be hard to take it apart to use the diapers but lucky for me she used size 1 diapers so I will get to enjoy it for awhile. Andrea herself just welcomed a new baby to her family on 7/27/09 so I was able to enjoy some good baby love for a couple hours last night, baby Cruz sure is adorable and I can't wait for him to meet his new friend baby Harlow when she arrives.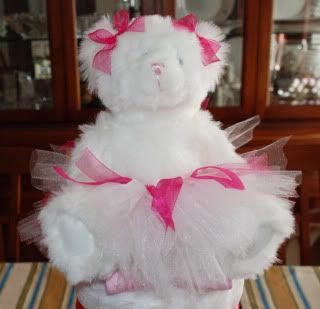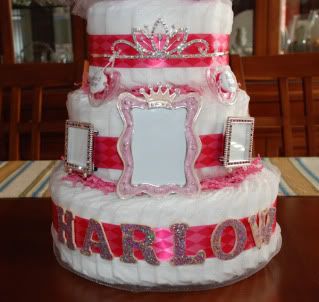 I also received this ADORABLE personalized bib from my friend Kimberly, I am sure it will be put to good use.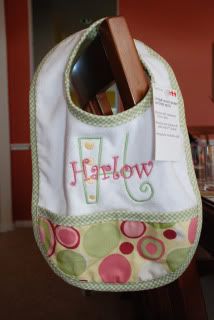 I just feel so grateful and loved, I can't wait for Harlow to meet all of these amazing friends I have here in TX. I haven't been doing much but preparing for Harlow, I still need to take those pictures of her little area in our room so you can all see it. I can finally say I feel ready to meet her so I hope she arrives soon.
I have an appointment with my Mid-Wife Kathleen tomorrow so I will be sure to post again tomorrow with the details.