I guess not everyone does it but we have done it for the past two years now, Paige and Aiden love going out to do some BOO-ing in our neighborhood. Well if you don't know what a BOO is check out these links, they will tell you everything you need to know and give you FREE printable poems and signs to get the BOO-ing started in your neighborhood.
Halloween How to BOO
Halloween BOO Poem & Signs
Costumes are optional of course. Paige and Aiden were already dressed head to toe in their costumes because we had just gotten back from a Halloween party. Aiden chose Peter Pan and Paige wanted to be a "Fabulous 50's Girl". Harlow has two costumes because she couldn't decide who to team up with (or should I say mommy couldn't decide?) so she has both a 50's girl costume and a Tinkerbell costume. More pictures to come of the kids in their costumes, just wanted to get the BOO-ing started in your neighborhoods.
Ready to BOO!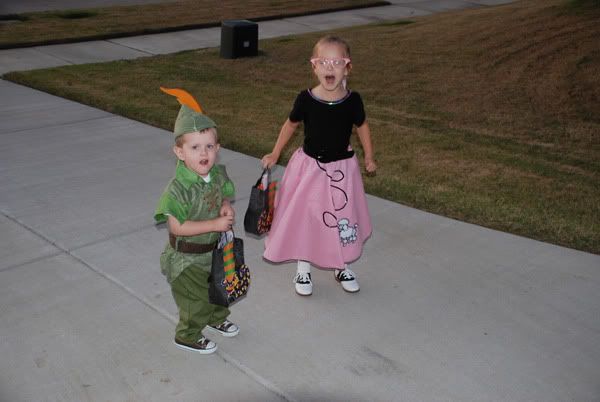 Run Run Run...Fun Fun Fun!