Today sure was a fun day, but it was a hard one as well. My family and I spent Easter with my dear friend Amber and her family.
Amber's
husband Chris couldn't be home to celebrate with us, he is a trunk driver and had to be out on the road making today even harder. We all spent Easter together last year and of course Amber and Chris' son Brett was with us to enjoy in all of the egg-
stra
fun Easter activities. It just doesn't seem to get any easier as the days pass, I still find it so hard to believe that Brett is gone and I feel such an aching pain in my heart every minute I miss him.
My day started out with the usual hidden Easter baskets and eggs scattered throughout the house. The kids woke-up early and started to gather the eggs. Jon had to put them back into bed 3 times in hopes we could get a little more shuteye before starting our the day. We had a terrible storm pass through which caused us to loose sleep on top of going to bed late after prepping the house for Easter. Finally, it was time to start the day and Jon has a Sunday tradition of taking the kids to get doughnuts and coffee, we call it "Doughnut Day." For me, this means an extra hour of sleep in absolute quiet until they return and then I always enjoy sitting at the table enjoying doughnuts with my family.
After the doughnuts it was time to hunt for the baskets. Paige found
Aiden's
basket quickly but it took her a couple of hints to help her find her own basket. Both kids were so excited to open up and check out the Easter goodies. Paige was in love with her new
Lelli Kelly
shoes and of course Aiden was in love with his cars. Then it was time for me to work on making Jon's grandmother's delicious green beans and some deviled eggs to bring over to Amber's house for Easter dinner.
Paige's Basket...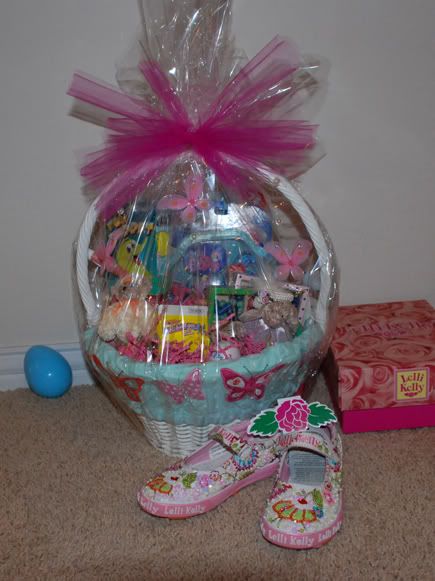 Aiden's
Basket...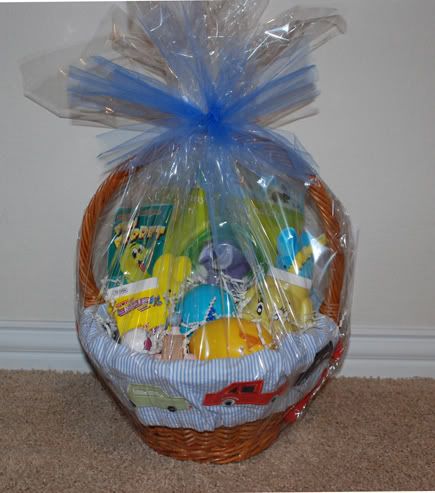 Enjoying some early morning candy...
We headed on over to Amber's for an early dinner and an egg hunt. We were worried that the rain was going to continue all day but it did stop and the grass dried up enough so that we were able to hunt the eggs in her backyard. Amber just had a tree planted in Brett's memory, I stopped several times while hiding eggs to remember the little man that loved to play outside with his friends and how cute he was hunting eggs with us last year. The kids all had a great time with the egg hunt and after we enjoyed some yummy apple pie it was time to clean-up and head home. The kids were in bed just after 7:00pm.
I had different Easter outfits planned but it was cold and rainy here in TX so I had to keep it practical. I do love Paige in this Knot Dress from the fabulous
Matilda Jane
.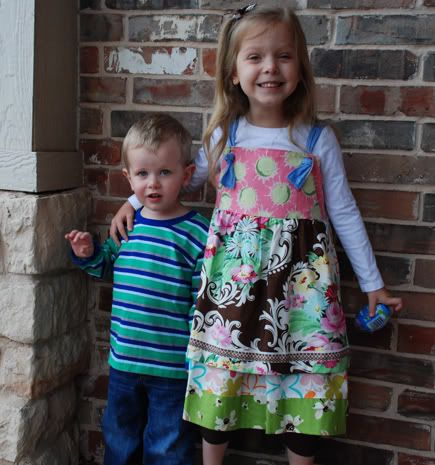 Aiden
and Danielle enjoying some Play-
Doh
together...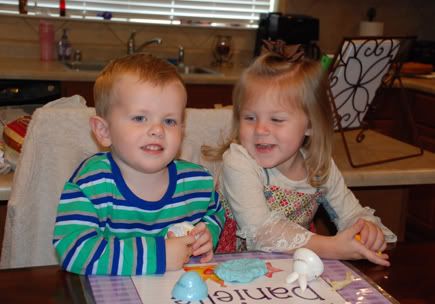 Paige and I
Off to get some eggs...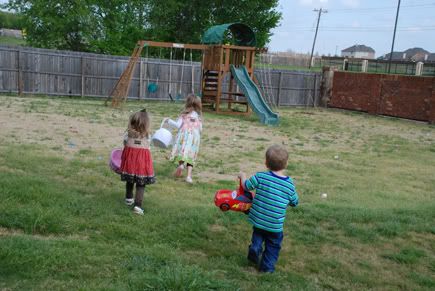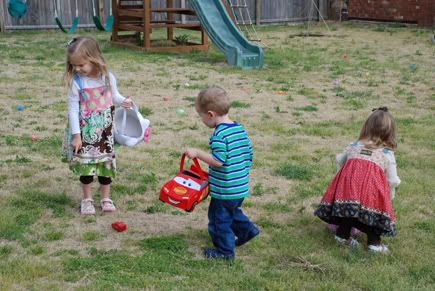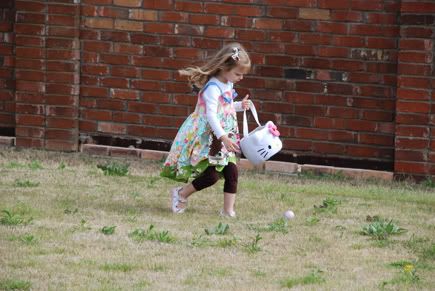 Aiden figured if he needed more eggs he could just dump Danielle's basket of eggs into his, lucky for him she didn't care and I was able to put back her eggs later.
I just love this face...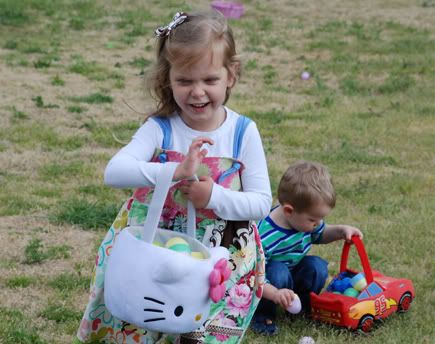 Checking out the goodies...