I have the most priceless gift in the world, my 3 beautiful children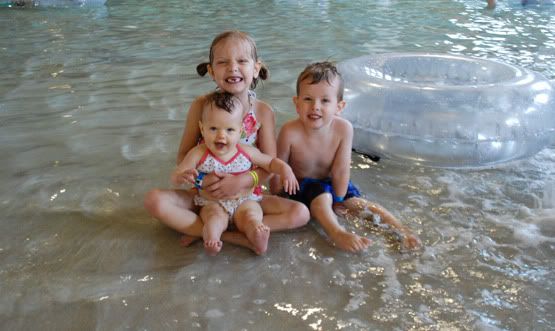 I couldn't have asked for a better Mother's Day gift then spending 2 nights at the
Great Wolf Lodge
with my family. This hotel has so many fun things to do you can barely get it all in with a 2-night stay.
We spent the majority of our time playing in the huge indoor water park, the kids enjoyed playing the
Magi-Quest
adventure game, they also enjoyed playing in the arcade, story-time each night was awesome and we got each of the kids a PAW Pass which included some other fun things to-do inside the hotel.
The best part about the room was the 'Kid Kamp' the kids each had a turn sleeping on the top bunk bed and they had their own tv to watch from their beds.
I told Jon we should make this a yearly tradition on Mother's Day weekend because we all had such a good time and it's a great excuse to go back every year.
Harlow's first time in the water, she LOVED every minute of it