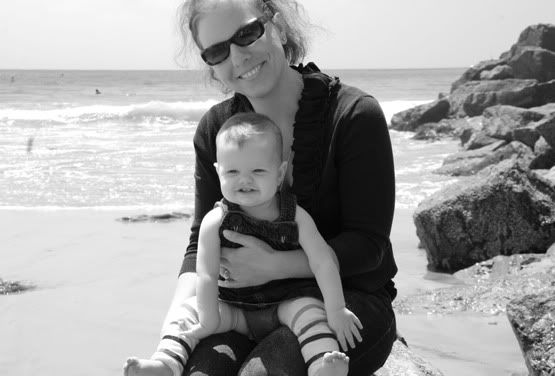 We went to the beach so we could visit my mom (where we laid her to rest) and I could take some pictures of my sister, Jason and the 3 kids together.
We were clickin' away at the beach and got a ton of fabulous pictures. We went to the beach every year on the anniversary of my mother's passing so I was happy to get to go back for a visit. Harlow just loved the sand, I assumed she would cry when I sat her down but it was just the opposite she was all curiosity and smiles.
My husband and I were married at Laguna Beach in the sand because my mom really wanted me to have a beach wedding, sadly she passed away shortly before our wedding but we threw roses in the sea during the ceremony to include her. My mother loved the beach and I was grateful Harlow was so content sitting in the sand spending time with her grandma whom she will never be fortunate enough to meet.
I love this picture with Harlow and her Auntie Jen and Cousin Megan
Here's my sister with Jason and the kids
This is from the beautiful yacht my sister and Jason are getting married on in October
It was such a fun day out in the water and sun with family and friends, I do miss a few things about CA one of them being the nice weather.
Well looks like we will have a part III of my trip to CA. I am taking the kids to Build-A-Bear today and then tonight I am going out with some friends to see Sex & the City II, enjoying summer already!